Calidus Resources Advancing Pilbara Gold Project
Calidus Resources (ASX: CAI) has made rapid progress on its Warrawoona gold projects in the Pilbara region of Western Australia since listing on the ASX in June 2017.
Calidus Resources came prepared, armed with a global resource at Warrawoona, most of which was located at the Klondyke prospect, one of the three main prospect areas of the Warrawoona project.
Calidus rang in the New Year by announcing a substantial increase in the Warrawoona gold project Mineral Resource, which included a high conversion to Indicated Mineral Resources.
The total JORC Code 2012-compliant Mineral Resource stands at 10.5 million tonnes at 2.11 grams per tonne gold for 712,000 ounces, representing an increase of 74 per cent over the previous estimate.
The total includes a maiden Indicated Mineral Resource of 8.4 million tonnes at 2.01g/t for 541,000 ounces.
In the break down, the Klondyke prospect has an Inferred Resource of 9.9 million tonnes at 2.06g/t gold for 654,000 ounces with 532,000 ounces in the Indicated Category that is defined from just two kilometres of an identified 7.5km strike length.
In additional to Klondyjke, the area contains numerous satellite deposits including the Copenhagen and Fieldings Gully prospects.
Copenhagen hosts an Inferred Resource of 180,000 tonnes at 6.1g/t gold for 36,000 ounces and Fieldings Gully boasts 0.4 million tonnes at 1.65g/t gold for 22,000 ounces.
The Copenhagen deposit and historical open pit is located approximately 10km to the west of Klondyke in a high-titanium basaltic unit that hosts additional historical workings to the north.
Calidus completed a round of RC drilling late last year testing two conceptual targets: a) the southerly extent of a possible parallel lode directly south of the existing shallow pit, and b) to test the position to the immediate west of the existing pit of the interpreted faulted off portion of the orebody.
The Fielding's Find shear zone can be traced over tens of kilometres.
It is truncated to the East by the Klondyke shear zone and contains numerous gold targets along strike.
The most prospective of these targets centre around an extensive gold anomaly defined by shallow historic open hole drilling completed in the 1980s and 1990s.
Fielding's Gully remains open in all directions with results defining an initial strike length of over 325m.
Drilling at the prospect encountered consistent, broad intersections with similar characteristics to the nearby Klondyke orebody.
The company considers the shear structure continuing along strike to both the east and west of the immediate drill area, augers well for the rapid expansion of this shallow high‐grade orebody.
"The first question a lot of people ask us is, how can two-grams-per-tonne-gold – outcropping – still be found in Western Australia," Calidus Resources managing director David Reeves told The Resources Roadhouse.
"It's not that we found it, it has been known about for a long time.
"What we have been able to do is consolidate the tenement package.
"The consolidation allowed us to join the Klondyke and Fieldings Gully resources together, which is where the bulk of the recently announced resource comes from.
"This is one continuous Resource of 2.6 kilometres that is open in all directions, and you don't see that length of Resources very often."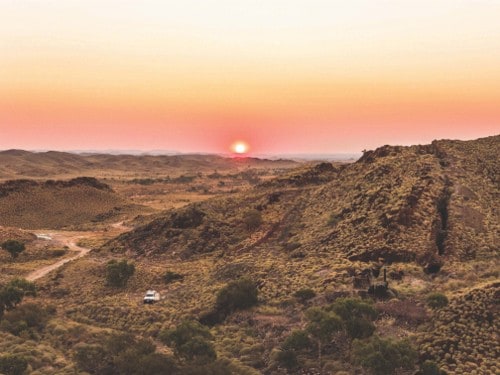 Calidus believes this increase bodes well for further resource expansion in the coming year.
To that end, the company has been carrying out RC drilling on the Copenhagen and Fieldings Gully deposits to follow‐up assays at Fieldings Gully (16m at 3.52g/t gold) and Copenhagen (18m at 4.35g/t gold) drilled late last year.
The latest drilling has produced a string of encouraging results, especially at Copenhagen, which has demonstrated high grade down plunge potential.
Recent results include:
17CPRC017
2 metres at 17.99 g/t gold from 122 m;
17CPRC017
6m at 21.47g/t gold from 131m;
17CPRC018
4m at 9.57g/t gold from 110 m;
17CPRC020
1m at 13.81g/t gold from 94m;
17CPRC021
1m at 38.1g/t gold from 141m; and
17FGRC013
7m at 5.66g/t gold from 63m.
"The latest high‐grade results continued the story of the under-explored Warrawoona area, which is emerging as a significant gold project with results impressing at both Fieldings Gully and Copenhagen" Reeves said.
"What they are telling us, is that both prospects contain significant potential to further grow the Warrawoona Mineral Resource base and we will be undertaking further drilling in quarter two to target that outcome."
The ability for a junior exploration company, just eight months into its ASX-timeline, to increase an existing high-grade resource base by 74 per cent with its initial program of targeted drilling, provides some insight into the unique attributes and potential of the Warrawoona project.
The outcropping gold mineralisation allows Calidus to rapidly and cost-effectively add ounces to development of the project.
The company has no intentions of slowing down either, with extensional drilling of the resource, down dip and along strike planned targeted at bringing other satellite targets to resource status.
These plans are supported by Calidus' current cash position following the recent completion of a capital raising that injected around $10 million into the bank.
So, with drilling underway to further increase a JORC-compliant Resource over 2g/t, and a full war chest to pay for it, what else does a junior exploration play require?
That's right, infrastructure, and due to its Pilbara location, Calidus Resources also has that criterion covered.
"We fly to Port Hedland, from where we drive on a bitumen road to Marble Bar – where there is also a bitumen airstrip should we require that later," Reeves said.
"An all-weather, council-maintained road runs right through the middle of the lease holding.
"So, we drive 20 kilometres on council-maintained roads from our base at Marble Bar, where we enjoy all the mod cons, which means we are not camped out in the middle of nowhere."
On top of the Copenhagen and Fieldings Gully drilling, Calidus will also conduct deeper drilling at Klondyke testing high-grade extensions of the orebody down-dip to a depth of up to 400m.
This drilling is being planned with the assistance of the CSIRO and part funded under a $140,000 Western Australian Governments Exploration Incentive Scheme grant to assist with prospectivity modelling of high-grade down dip extensions of the orebody.
Further strike definition drilling along strike of the published resources is planned for the second quarter of 2018 with the aim of increasing the resource base to more than one million ounces.
While this is happening, initial scout drilling will be conducted on some of the high priority regional targets to examine their potential as higher-grade satellite deposits that could form ore feed based on the assessment of future development scenarios.
A Pre-Feasibility Study including optimisation, mine scheduling and metallurgical studies based on the new Resource plus planned extensions in 2018, is currently planned to commence late 2018 subject to the resource definition program.
"We have only been around a short while, but we have already established a really good base to work from into 2018 with a cash position of over $10 million," Reeves said.
"The idea is to drill that Resource to over one million ounces and then eventually to prove that up to a plus-six-year minelife at one hundred thousand ounces per annum with plenty of regional upside."
Original article on http://resourcesroadhouse.com.au/_blog/Resources_Roadhouse/post/calidus-resources-advancing-pilbara-gold-project/